Bollywood
The Bachchan Trio, makes Vogue Cover
Today Jaya Bachchan along with her daughter, Shweta Nanda and granddaughter, Navya Nanda attended Vogue's Beauty Awards 2017. These three Gorgeous ladies are on the cover of Vogue this month, August 2017. Seeing three generations of Bachchan legacy together is historic, the magazine also titles "Bachchan Women", which reminds us of the other two beautiful faces of this family, Aishwariya Rai Bachchan and Aradhya Bachchan, who would have been an even better candidate for this historic cover.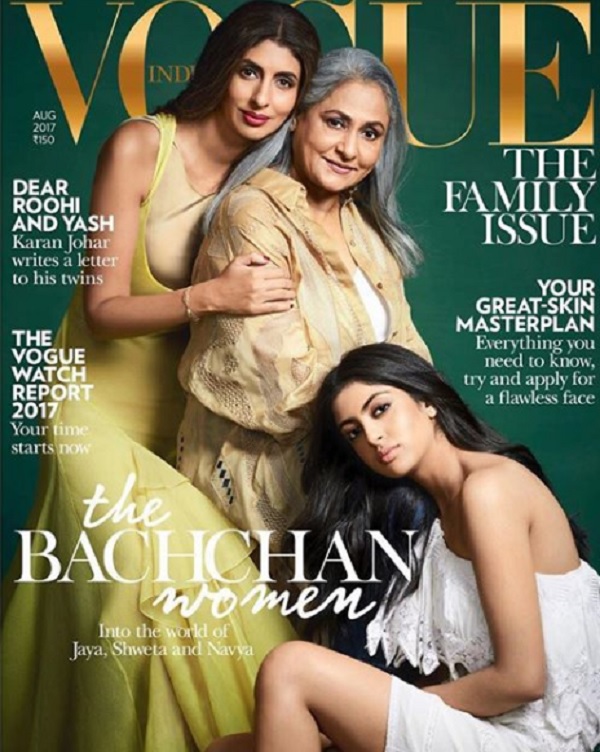 Having said that, Navya Nanda and Shweta Nanda are also known for keeping quite an image. Navya Nanda has been a social media sensation for quite a time now. She is seen posing with her mother and grandmother in white dress quite recently for which the social media lost its screws. However, unlike other star kids Navya has not yet made any announcement about her Bollywood debut but this cover is a proof that even without a debut in her hands, she already seems to be ruling B-town. Navya Nanda has been pursuing studies with Shahrukh Khan's son in abroad.
When it comes to talent, mom Shweta Nanda is also no less than the rest the of her family. She has modeled many times in past and she's also a journalist for CNN IBN.
Coming to Jaya Bachchan, she needs no introduction. She has ruled Bollywood with husband Amitabh Bachchan in their time. And we probably are looking at another trio doing the same again because these three ladies look extremely ravishing.
Comments
comments