Bollywood
Medical Student Amareen Dhaliwal All Set to Produce Music Under Mika Singh's Label
Mika Singh is quite a renowned Bollywood singer – who has reported signing the Boston-based medical student Amareen Dhaliwal to produce music under his label Music and Sound. Amareen Dhaliwal is the grandniece of Bhagat Singh, holding the title of being one of the youngest medical students in her school.
Amareen has been hugely interested in music from the young age of 10 – and it is this interest that she developed into a major passion. At the time she produced remixes using Audacity, however under her new label, Amareen plans on taking courses in Logic Pro at Berklee College Of Music to change her style to better resonate with the traditional music played in India.
Amareen reports that she was inspired by Mika Singh when he came to visit, as he was an old friend of her mother. She plans on styling new genres of Indian music including chillstep, Indian trap and more. Her latest releases can be heard on Soundcloud, Spotify, iTunes and even Tidal.
Being a student in a medical school, it shouldn't come as a surprise to see her mix two of her goals to produce something intertwined and special. Her newest song Boston Cyclone Bird features the sound of her heart and stomach that she recorded using a stethoscope. She wishes to continue this methodology to create music that highlights the beats present in the human body. Having taken a year of training in acting, Amareen hopes to create her own music video with Mika Singh.
Amareen Dhaliwal is definitely rising the charts in Bollywood, being described as mix of Priyanka Chopra and Deepika Padukone. Reportedly, casting agencies have kept her profile on a tab for the moment she moves back to Mumbai to launch her career. Even the Bigg Boss star and singer of Bore Bore from Bluff Master believes that Amareen Dhaliwal has the potential to become one of the largest A-list actresses in India. She was completely natural on set, having an elegance and allure that many other actresses lack.
Who is Amareen Dhaliwal?
Amareen Dhaliwal is a student in Boston University School of Medicine. Having entered medical school at an astonishing age of 18, Amareen is an advocate of grade-skipping and states that while it is generally considered to be harmful, it actually has a multitude of benefits for students who are over-performing for the grade level they are currently in.
Amareen expresses interest in the field of fertility and family planning but aims to first take time to pursue a PhD in gifted education to organize better resources for young girls interested in STEM (science, technology, engineering and math).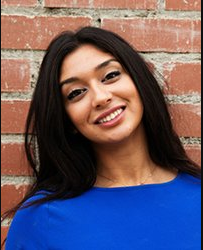 Undergraduate: University of California San Diego, 2016
Major: Biochemistry/Cell Biology
Medical school: Boston University School of Medicine, 2020
Comments
comments